Ever noticed that success seems to go hand in hand with action?
It's always easier to imagine someone, like a popular super-blogger or a famous online entrepreneur, to be born with a silver spoon in their mouth.
Sure it's easy for them – look who they are!
Truth is, no matter who you look at, their success can be most likely measured by the healthy amount of monumental or plain outright dumb mistakes they've made along the way.
Successful people keep moving.
They make mistakes, but they don't quit.
And so I decided to begin 2013 clearing up some of the blunders I and others have made in 2012.
Would love for you to join in, by the way – read through the end of the post to see how.
Let's start with the ones that were hard to hide.
Worst Business Blunders of 2012
Apple Drops Google Maps from the iPhone

When Apple discarded the Google Maps app from its latest iPhone operating system, replacing it with its own proprietary application, its executives must have thought the move would be a hit.
After all, Apple Maps offered turn-by-turn navigation and a cool-looking 3-D design.
Of course, they forgot one very important part of an effective map application: it has to correctly identify, you know, where things are.
Some of the worst offenses of the app following its release included turning the entire east side of Portland, Ore., into a nature park and misplacing the capital of Sweden by 15 miles.
The poor quality of the app led to a written apology from CEO Tim Cook:
"We are extremely sorry for the frustration [the app] has caused our customers and we are doing everything we can to make Maps better."
A BIG thumbs down for Facebook's IPO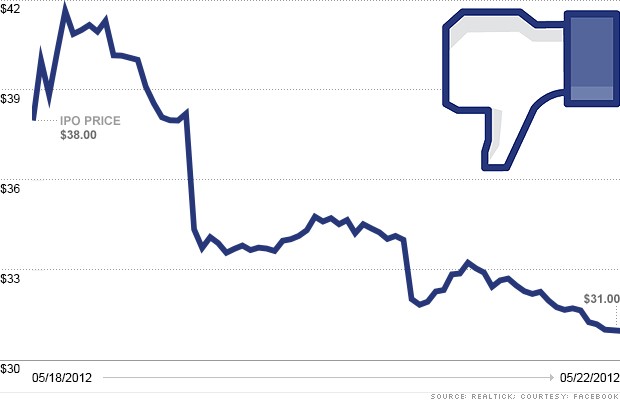 The most anticipated IPO of the year couldn't have had a worse debut.
When Facebook started trading at 11:30 am, 30 minutes later than planned, Nasdaq experienced a rapid series of technical glitches and for hours was unable to tell investors whether their orders had been filled.
That led to more than $500 million in reported losses from so-called market making firms — of which Nasdaq has offered to pay just $62 million.
What's more, Facebook issued too many shares at too high a value — the stock is still down 27% from its IPO price, despite a healthy comeback off the bottom.
Google Sells Worthless Glowing Ball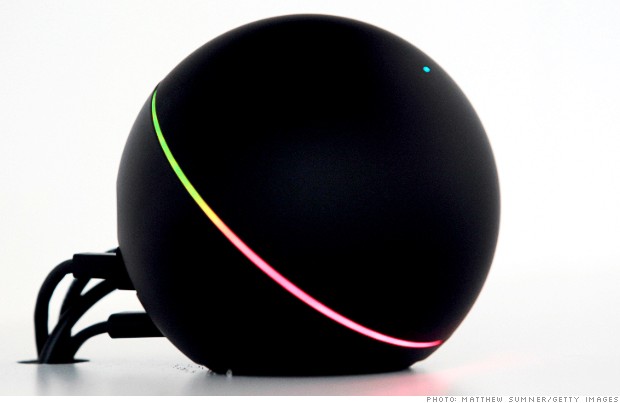 The Nexus Q looked wicked cool, but it turned out to be an expensive piece of junk.
After a year of hype, Google finally put its made-in-the-USA streaming music and video glowing ball thingamajig on sale for $300.
It worked great — as long as you also had an Android phone, uploaded all of your music onto Google's music service, and only wanted to watch YouTube videos.
After receiving horrible reviews, Google gave up on selling its creation.
It sent those who had pre-ordered the device their very own free Nexus Q, then cancelled production.
'Pending Larry' misfires Google's earnings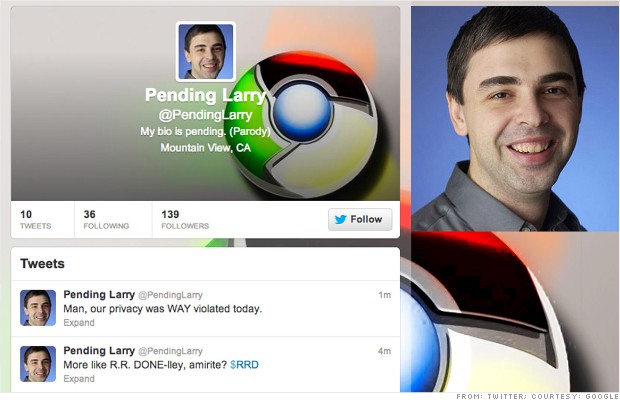 Google's quarterly financial results landed at the Securities and Exchange Commission about four hours early on Oct. 18, after a fat-fingered employee at financial printer RR Donnelley filed the document "without authorization."
The results were grisly and the stock tanked, but even disappointed investors had to laugh at the draft's placeholder for CEO Larry Page's boilerplate quote: "PENDING LARRY QUOTE."
Within minutes, a satiric Twitter feed popped up with the handle @PendingLarry, which fired off such gems as "Somehow, I'll find a way to blame today's early release on Apple Maps," "Man, our privacy was WAY violated today," and "To be fair, we released our earnings yesterday afternoon on Google Plus."
Here are some of the fake Larry's most amusing comments about Google's oopsie.
And my personal favorite. I'm sure Tim Cook is not laughing though.
Sadly, @PendingLarry is currently off limits to us, simple people:
Blogworld Roast 2012: More Monumental Blunders
Sure it's easy to laugh at Goliaths of the business world.
There's a reason those kinds of "whoopsies" go viral, right?
Too bad we, bloggers, are not immune to them either.
We just don't like talking about them that much.
Or at least, some don't.
Those who ARE willing to spill it all, however, show us yet again what democratic internet should be all about: transparency, accessibility, and equal rights to laugh at themselves for all.
The following bloggers were asked two questions:
What was your most monumental business blunder of the year?
What would you challenge your readers to do to significantly boost their business growth in 2013?
Here are their responses in all their glory.
What was your most monumental business blunder of the year?
"It was a little thing actually.

When you are selling freelance writing services, the first impression you want to make is accuracy and attention to detail.

When a potential client emailed me back about a proposal and noted that of all things my name was spelled wrong in my template signature, I was pretty mortified.

Especially knowing that I had sent countless emails with that signature out to potential and current clients alike."
What would you challenge your readers to do to significantly boost their business growth in 2013?
"To increase business growth, I would challenge readers to really focus on inbound marketing.

Focus on ways to help your ideal customers find you.

And also take the time to weed out the clients, contacts, partners, etc. in your business that are costing you more in time than they are bringing you in income.

It's OK if it's an opportunity that will have a significant payoff down the road, but you have to know when you've waited too long to see the benefits roll in."
What was your most monumental business blunder of the year?
"I just experienced a business blunder that I can't take all the blame for, although it was my finger that triggered the problem.

I was looking forward to recording a video presentation in my home studio. I had the camera set up, the lights on, the windows closed, the cat in the other room and the lapel mic on my shirt ready to record.

I pressed the "ON" button on the voice recorder. It didn't work. I pressed it again. Still no sign of life.

I noticed the button didn't feel like it used to. My natural response in typical man-style was to press it harder and so of course the entire button collapsed into the recording device.

Bah-roken!

I then proceeded to spend the next three hours trying to fix it, then find a replacement, which I did, but then it didn't work with my lapel mic.

By the end of the night I gave up. Equipment can be bitch sometimes!"
What would you challenge your readers to do to significantly boost their business growth in 2013?
"Since I'm talking about video production here, which is not something I do a lot of and plan to increase dramatically in the new year, my challenge to you is to increase production of whatever media format you don't normally use.

If you do a lot of video, try podcasting or writing. If you podcast, try doing video with it as well. If you never put many photos in your blog posts, start using more photography and pictures.

I'm confident if you increase any of these things you will see a difference by the end of 2013."
What was your most monumental business blunder of the year?
"We started out 2012 with trying to do 200 things at once.

The result of doing that was getting far less done than we would have if we had less on our plates."
What was your most monumental business blunder of the year?
"After building a community of passion-bloggers for over a year on Triberr, we rolled out a suite of premium features (Triberr PRIME) aimed at business bloggers.

We essentially built a product and priced it for the customer that we didn't have.

#Dumb 🙂

That's not to say passion-bloggers couldn't use PRIME features, but the price-point was much too high ($40 per month) for our existing community and boy, did they let us know.

We're now adding a scaled down version with main features at a much lower price point.

In retrospect, we probably should have started with a scaled down version + lower price point, then worked our way up.

It took us 4 months to figure this out. :-)"
What would you challenge your readers to do to significantly boost their business growth in 2013?
"I will issue the same challenge to the reader to boost their business growth that I will issue for myself. Partner up.

Triberr has been an island of its own.

We don't have an API that allows other platforms to pull info from us, and we don't have any strategic partnerships. This is a mistake.

In 2013, I will do my best to partner with other platform builders, and I believe this will lead to opportunities that would not be there otherwise.

If you think Triberr fits in your business model, I invite you to contact me on Twitter @DinoDogan and let's talk about it."
Ana Hoffman TrafficGenerationCafe.com
What was your most monumental business blunder of the year?
"Hard to narrow it down to just one actually, but let's take this post, for instance.

I begged Shane Melaugh and Paul McCarthy from ImImpact.com to give me access to their unreleased plugin used for their

Ask the Experts: How to Get 1,000 Visitors in 30 Days from Scratch post – I wanted everything to look professional and easy.

I spent time finding various bloggers' contact info, links, photos, etc.

I sent out emails.

A couple of weeks later, I sent out the second round of emails.

Devastated by the lack of response, I raided their Twitter/Facebook accounts begging politely asking them to respond.

A few took their time to respond quickly despite their busy schedules and commitments (Kristi Hines was about to have a baby when she responded – CONGRATULATIONS, Kristi; Lucy is gorgeous!).

But for the most part, I heard crickets.

What a devastating and humiliating blow to my arrogance, pride, and self-esteem!

And here I was, thinking I was all that… that I was in the "big leagues"… that the mention of my name alone should make everyone drop what they were doing and write this post for me…"
What would you challenge your readers to do to significantly boost their business growth in 2013?
"Bottlenecks.

Each business has them.

They are the ones that prevented you from reaching your goals in 2012.

They'll be the ones to do the same in 2013, unless you find those bottlenecks and figure out how to work through/around them."
Ready to Face the Music?
Don't you feel better now that you know you are not the only screw-up in the blogging history?
I know I do.
And I have a feeling so will your readers, once you share with them your business blunders of 2012.
So how about it?
Roast your own business blunders of 2012 in a post on your blog and let me know about it in the comments; would love to check it out!
Marketing Takeaway
A few final words of wisdom for the year to come.
"Experience is the name everyone gives to their mistakes." ~Oscar Wilde


"Most of what I learned as an entrepreneur was by trial and error." – Gordon Moore


"If you're going to be a successful entrepreneur, you're going to have to be somebody who can tolerate a high rate of change, you have to be willing to put a lot more hours into it, you have to tolerate the fact that you're going to make more mistakes and have a culture that responds to that." – Trip Hawkins


"I have taken more than 9000 shots in my career. I have lost almost 300 games. Twenty six times I have been trusted to take the game winning shot and missed. I have failed over and over again in my life; and that is why I succeed." – Michael Jordan


"One of the great things about being willing to try new things and make mistakes is that making mistakes keeps you humble. People who are humble learn more than people who are arrogant." – Rich Dad


Off to turn my mistakes into successes,