Who this post is for:
Affiliates
Bloggers
Content Marketers
Anyone that needs or wants more EYEBALLS on their CONTENT
–> Psst! Ahem. That's YOU 😉
In today's post, I'll show you the exact steps I took to land on page ONE of Google for a very competitive niche, using techniques gleaned from Traffic Generation Café.
But first I want to reveal one of the most intriguing mysteries of the blogosphere:
Just WHO IS this "Ana Hoffman" Character Anyway?
A great big THANK YOU to Ana Hoffman of Traffic Generation Cafe!
I get to BRAG to you today about how well her strategies have worked for me.
That said… let's just put this "Ana Hoffman" nonsense aside… as part of her inner circle of fans and readers we ALL know full well that "Ana Hoffman" is really just a code name for Angelina Jolie.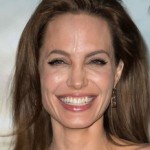 Don't tell me you haven't noticed. Look left, then right. Left again. Right again. Separated at birth? YOU decide.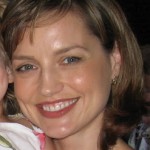 C'mon… I saw Salt.
You're really a trained assassin, aren't you?
I personally am convinced this Russian beauty queen/badass SPY is here to kick our collective tushies… but we're all just too happy to buy into her "cover'… her side hobby as a blogger extraordinaire.
Oh, and the undisputed Queen of Traffic. Letting her help us triple and quadruple the eyeballs we get on our content.
But nobody is fooled. WE know the truth, uh, "Ana".
Okay, so now that I've blown your cover, let me introduce myself to your esteemed followers.
And Who Is This 'Kurt Frankenberg' Character?
Hiya, fellow TGC fans! Kurt Frankenberg here from Shoestring101, dedicated to helping people start on- or off-line businesses based around their hobbies and interests.
Let me take JUST a second here and blatantly promote my blog…
Shoestring101 is based on a simple, two-part premise – ALL you really need to be in business are these vital ingredients:
Access to a thing that a certain group of people values.
A way to communicate with those that value that thing!
Getting this message to the masses has become my passion.
I was bloggin', bloggin', bloggin', keep them posts a-loggin'… and getting NO views.
Well, not as many as I would like.
Until I stumbled across the wisdom of Her Trafficness, that is.
Here's where I'll tell you how I used TGC methods to almost double traffic to my website in 28 days.
Then doubled it again.
And increased traffic even more after that.
And finally, how Traffic Generation Cafe techniques got li'l ol' ME on the front-freakin-page of GOOGLE for some extremely competitive keywords!
How I Doubled My Blog Traffic… TWICE
I've long been a fan of Ana's style of writing.
Just the facts, ma'am.
She tends to take vast amounts of subject matter, boil 'em down into USABLE, step-by step or bullet point by bullet point directives that anyone can follow.
Even the technically challenged. Like yers truly 😉
They talk about doing a few "Pillar Posts", but I have yet to see a TGC post that ISN'T pillar content.
The cornerstone, "Promote Your Blog: 10 Steps to Ultimate Blog Promotion [My Personal Cheat Sheet]" was no exception.
It was a blow-by-blow, get 'er done kind of a checklist full of simple steps. That Ana says she does right after writing.
Sooo…
I thought, "Huh. That list, though extensive, is doable. If I can follow directions… maybe, just maybe I can just have the kind of results that Readers oughtta be getting from a blog called TRAFFIC GENERATION Cafe ."
So I did the list.
Here are the deets:
Rather than writing new stuff, I turned to promoting and repurposing the stuff I already had "out there".
I printed out the infographic and made it my new ritual after every post.
General traffic to the site enjoyed a nice pickup. After instituting this ritual and using it to promote OLD posts, I was seeing a gradual gain for several days.
When I added a NEW post, there was an enormous bump up in traffic vs. what was normal.
Even though there was a serious "down time" problem with the mom-and-pop hosting service that I had been using, and traffic all but STOPPED… that wasn't because of the technique, it was because my pages weren't showing.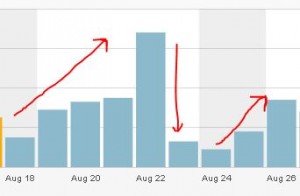 After getting the problem with my hosting fixed, I looked again at the end of 4 weeks.
28 days later, even with the problems I experienced with down time on my blog, there was an 89% increase in traffic.
Dang near doubled and the month wasn't over yet!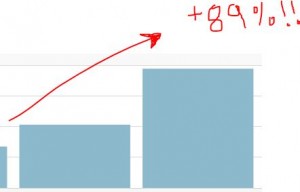 Since that little experiment, traffic at Shoestring101.com has never been a problem.
And yet there is still more to glean from the pages of Traffic Generation Cafe.
Case in point: general promotion of Shoestring101 has been great. But promoting specific posts has especially taken off!
Recently my favorite post about how to get free local business advertising from Google landed on page one, result one… no dip.
Getting Your Local Business on the Front Page of Google, FREE
As a local business owner (I own a martial arts studio and a window screen repair business which started as a 30-day challenge), it's important to get your phone calls cheap… or better yet, FREE… from Google.
I've discovered 7 "Ninja Hacks" and I posted how to do them on Shoestring101: 7 Ways to Hack Local Search SEO for a Free Front Page Listing.
Here's what "local" means: if you own a car wash, or a window cleaning company, or you're an accountant… MOST of your business will come from a local geographical area.
By using creative techniques, it's possible to get on the front page of Google for local results easily and without cost.
Now, MY hacks aren't the thrust of this article. But since you're probably dying with curiosity, here's ONE of those hacks:
FORGET about promoting your businesses' name. No one in my area goes searching, specifically, for "Freedom School of Martial Arts."

So while I do have a presence with that name… the way I get phone calls is by making a Facebook page that's NAMED a keyword.

"Karate for Kids" is a highly competitive keyword in my local business niche. Furthermore, in my town of Monument, Colorado there is a huge Tae Kwon Do chain that spends money hand over fist to try and get Pay Per Click leads for that keyword, targeted so when someone in Monument searches for "karate for kids", they get the first listing.

So (evil laugh: muahahahahaha!) I NAMED a Facebook page "Karate for Kids in Monument, Colorado."
Guess what comes up NUMBER ONE when a person in that geographical area of Monument searches for "karate for kids"?
Heh… you guessed right. IF you guessed ME that is.




Now, scrolling down you'll come across 5 or 6 other refs to my local biz… my other hacks account for that.

Okay so you get the idea. I've discovered a way to get my LOCAL business featured multiple times for specific, long-tail, deep in the buying funnel keywords… and do it for free.
I pay exactly SQUAT for pay-per-click… and my closest competitor… the guy that shows up in sixth place… is SUPER well-funded and spends hundreds every month.
You can totally dominate Google for local results by creating relevant content and knowing just a thing or two about keywords. Now THAT is something that the beloved Readers of my bootstrappin' blog… mostly small to medium local business owners… NEED to KNOW.
So now how do I help the business owners that need cheap local advertising to FIND and READ my Shoestring101 blog?
Specifically, THIS post that will show them how to dominate page one results without spending money?
(Ahem. that is, how do I help business owners beside my sixth-placing local competitor 😉 )
How to promote this particular piece of premium pillar posting?
Why of course! Back to Traffic Generation Cafe we go!
How to get Your Blog Post on the Front Page of Google
So you might imagine that it could be hard to get on the front page of Google, with your strategy for gaming Google.
I mean, that sort of thing belongs to the likes of gurus such as Neil Patel or Mark Traphagen or (gulp!) ANA HOFFMAN…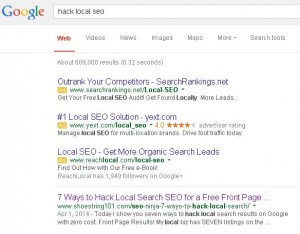 Well, I found that it isn't so hard as long as you're willing to actually try out the advice of these super-gurus.
Go on, check it for yourself; Google…
"hack local SEO",
"hack local search",
"front page listing", and
"front page listing hack".
You'll find "7 Ways to Hack Local Search SEO for a Free Front Page Listing" at or near the top of every search!
Here's the value of following Traffic Generation Cafe:
Yes, I've used some of Ana's checklists on blog promotion to achieve greater traffic volume in general. Views and subscriptions to Shoestring101 have never been better.
But I haven't worked all the way through the entire site… yet.
Sure, I've READ a lot of posts. But actually taking ALL of the step-by-step checklists… the tips, tricks and techniques… and DOING them to a "T"… I've only just scraped the top layer of ice off the berg, yo.
Only just now, for example, have I forayed into using SlideShare and PDF posting.
Since you're DYING to know, the technique that I used to wrangle position ONE on Google for my "How to Get Free Front Page Local Listings" was this one:
To be honest, at first I didn't actually think about promoting that blog post to the masses for free. I thought about making it into premium content for a membership or something…. but not without testing the market first.
Believe it or not, I actually posted a gig on Fiverr saying that I could show folks how to get their local biz on Google… and made about a hundred bucks selling the PDF.
Okay, so it's in demand.
But Queen Ana would be wroth.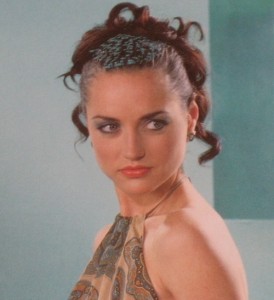 Why? Because I had only followed SOME of the directions. Yes, I made my blog post into a PDF. Sold a few of 'em too.
But then completely SKIPPED where it said, halfway down the post, to use your PDF for traffic-building purposes.
By posting PDFs of your material, pointing back to you, you make it easy for both the computers and the people to find you.
So back to Fiverr I went, and for FIVE BUCKS… had a fella in India or somewheres post my PDF on 35 sites, including a lot of the ones Ana discusses in her "Be Everywhere" PDF Traffic tip.
Here is the literal step-by-step of what I did to land on page ONE:
Wrote some content that people really wanna have.
Went to Printfriendly.com as per "Be Everywhere: How to Convert a Blog Post into PDF in 60 Seconds" and saved a PDF.
SOLD the PDF for a while on Fiverr, generating about a hundred bucks.
Used Fiverr to post to 35 directories.
Total Cost to promote my blog post worldwide and get a number one spot: $5. Except I already got paid, so actually… nothing.

Less

than nothing to be exact.
How long it took: Well, DAYS to be honest – to write and polish the blog post.
But then, yeah… 'bout 60 seconds as Ana promised is all it took to convert to PDF. Giving it to a guy on Fiverr was an investment of three more minutes and five dollah.
What Happened: Insane Traffic, DUH! What else would you expect from a tip found on TGC? Results… PHENOMENAL, as in knocked everyone off page one, place one for some pretty high-competition keywords.
Not a bad ROI for the additional three and a half minutes to promote that bad boy!
Traffic Generation: Lessons Learned
Through this endeavor (and extreme lucky break!), I came away with some pretty hard-hitting truths, which I'll share with you here:
Point #1: The first prerequisite to sharing is to have something WORTH sharing. I wrote the "Seven Hacks" post for PEOPLE.
Point #2: Don't write for robots, but

understand the role they play

in getting our thoughts to those that seek them.
Point #3: Follow Traffic Generation Cafe tips thoroughly and without leaving anything out. Duh.
Unexpected Bonus Point #4: When the Queen of Traffic is pleased, she may invite your silly butt to guest post on TGC! 😉
(That last one is my favorite. Thanks for the opportunity, Ana!)
Conclusion: Traffic Generation Cafe tips are not just conjecture and theory; they WORK… in the real world… for anyone that's interested in getting more eyeballs on their content.
Who knows how long my hack for getting your local biz on the front page of Google results will last? Before you know it, "Big G" may change the rules.
Also, who knows how long this awesome blog post-to-PDF-to top of the GLOBAL search results will work? Uncertain as well… but you can be sure of one thing: when the rules change, those that are tuned in to TGC will know about it first.
And more importantly, what to do about it.
Closing Remarks and a Big Ol' CHALLENGE
Thank you to Ana and Traffic Generation Cafe for putting up with me! 😉
And for letting me come here and post the results I got, just for following your step-by-steps.
I'm so sorry about blowing your cover as a "content marketing expert and coach", when really you are an elite intelligence operative.
I suppose it would be BAD to tell everybody you're in your lab… cooking up a top-secret evil military grade Content Generation, Promotion, Conversion, and Repurposing System beyond anything imaginable?
Shhh… our secret.
I certainly will NOT tell them it's full of stupid-simple checklists, effective posting schedules, sneaky ways to find out EXACTLY what your target audience is craving, or nuclear-powered content generation and repurposing strategies.
NOOooo, wouldn't even think of leaking that information.
A Challenge for Readers of Traffic Generation Cafe
Okay, Fellow TGC fans! IN case you haven't come to recognize what comes at the end, this is your Call To Action:
I challenge you to:
Pick ONE of Ana's pillar posts on blog promotion, content generation or repurposing and

Just

freakin' follow directions

. Then
Measure the impact it has on YOUR biz and bring it back to this page.
I know Ana loves to hear comments from the faithful… but how 'bout this?
Instead of the stock, "Wow, totally awesome post yet again Ana, I soooo agree with you…"
…INSTEAD, tell her what her advice really did for YOU.
Post in the comments below, "OKAY, I WILL take Kurt's TGC challenge" … IF you are ready to commit to testing one TGC strategy and coming back to this page again with the results.
There's a wealth of wealth of wealth of information on TGC, and depending on where you are in your Content Marketing journey you should pick one that's appropriate to YOU. Just choose one, and see how it does for you.
If you're not sure where on TGC to go first ('cause there's a LOT here!) here are a coupla really good ones to start you off:
Thanks for making it to the bottom. I wish you as good results or better than I have had following Ana's easy steps. Hopefully we will ALL have further breakthroughs and come back here to share! Signing off for now…
Keep Stepping,
Kurt Frankenberg
Kurt Frankenberg's mission is to help everyone with a dream to become their own boss. He is the founder of Shoestring101.com, where he teaches the principles that enabled him to start three very different kinds of businesses starting with zero capital. Looking to start your own business, but don't want to risk your savings or take out a loan? Check out his book 'Get Paid Today! Structure Your Startup to be Profitable from Day ONE' on Amazon.